Anchor Yeast builds classrooms in Khayelitsha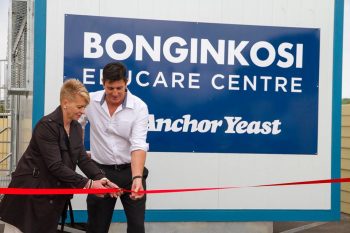 Anchor Yeast has been actively involved with schools in Gauteng and Kwa-Zulu Natal in the past years. We are now proud to add the Western Cape to our social development investment projects.
We recently completed the project of building classrooms for the Grade R learners at Bonginkosi Educare in Khayelitsha. Bonginkosi has a long history, with more than 10,000 children receiving their education to date. In addition to caring for new born babies and children who are HIV positive or AIDS orphans, they also provide preschool to Grade R education for every child. Today, 300 children at the school are part of this educational environment.
On 21 September 2017, Franco Pereira, Managing Director of Anchor Yeast, opened the new classrooms amid much joy from the little ones, teachers and Anchor team.
Anchor Yeast believes that our investment in the community will go a long way, in providing the Grade R learners an environment that is safe and conducive to learning.
Click here to watch the video of the opening celebration