Unveiling of the Lallemand Centennial Triptych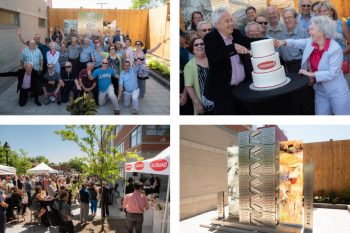 Lallemand celebrated its 100th anniversary of the Préfontaine plant, in Montreal, Canada. It is in front of an impressive crowd of more than 100 people who witnessed the unveiling of the triptych of the centenary of Lallemand on Saturday, June 2nd. This was a significant event as it highlighted Lallemand's recognition of its employees in a monument that will forever celebrate their contribution.
The tryptich of the centenary Lallemand recalls the history of Lallemand in the Hochelaga-Maisonneuve neighborhood, in Montreal. It includes the names of 105 people who have worked for 25 years or more since the founding of the company. Of these 105 people, one third were among us or represented by their families or their descendants. This architectural work will now enrich the surroundings of the plant and will be part of the cultural heritage of the Hochelaga District and its citizens, especially as it is the fruit of the artist of our neighborhood, Mr. Léopol Bourjoi.
It was a wonderful day to celebrate and pay tribute to those who are currently contributing or have contributed to Lallemand's success for more than a century!