Upcycling Bread
In a world where so many go to bed hungry, the huge amount of food that goes to waste around the world is horrifying. Frighteningly, in the UK alone, 900 000 tonnes of bread go to waste annually (link to https://www.ecoandbeyond.co/articles/much-bread-waste-uk/) – that's 24 million slices, or 1 million loaves, every day. In a bid to reduce the amount of bread that goes to waste, these savvy producers are utilising surplus bread in different ways.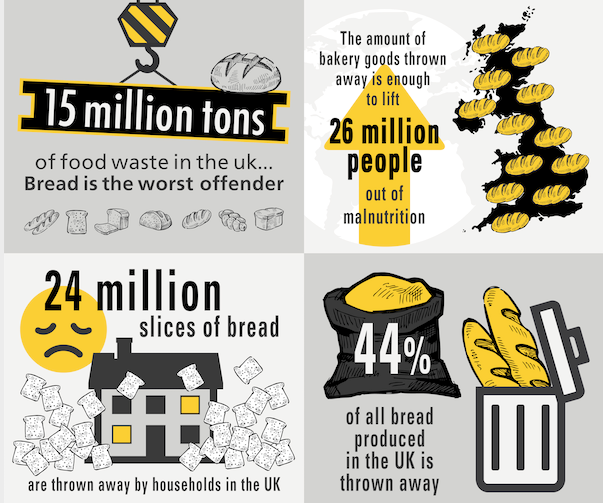 Image sourced from Toast Ale
Beer
Toast Ale (link to https://www.toastale.com/ ) is an innovative brewing company founded by environmentalist Tristram Stuart that uses bread to brew beer. Originally based just in the UK (where to date they've upcycled 1 141 397 slices of bread to brew 511 993 litres of beer), you'll find Toast Ale being brewed in 7 countries around the world now – including in SA. Toast Ale collects day-old as well as leftover crusts from the loaves used by sandwich manufacturers. Bread replaces 30% of the malted barley used in the brewing process.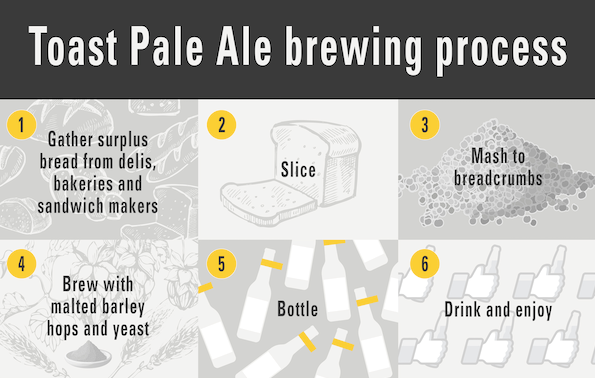 Image sourced from Toast Ale
Fresh Bread
Gail's Bakeries spread across London and the South East of England have introduced the Waste Bread (link to https://www.theguardian.com/food/2018/nov/21/waste-bread-gails-is-making-the-most-of-yesterdays-bake). Head Baker Roz Bado developed the idea in order to deal with unsold bread from its stores.  Leftover bread is blitzed up into breadcrumbs and turned into a porridge which is then added to strong white flour, malt and a starter culture to create a fresh loaf – and the flavour changes daily, depending on which surplus breads were used to create it. The surplus bread makes up about a third of the fresh loaf, and supply will depend on the amount of bread there is to use up. Bread is baked in small batches to keep waste to a minimum and loaves are about 750g in size.
Food Items
UK-based supermarket retailer Tesco has introduced two items to their bakery line in an effort to use up surplus baguettes and batons (link to https://www.thegrocer.co.uk/waste-not-want-not/tesco-looks-to-cut-bread-waste-with-crostini-and-puddings-plan/595237.article). In-store batons are sliced, drizzled with extra virgin olive oil and heated until crisp for Tesco's olive oil crostini. Baguette bread crumbs are used in Tesco's bread pudding, together with spices and sultanas. The company estimates that through the introduction of these two products, baguette and baton waste can be reduced by 40%.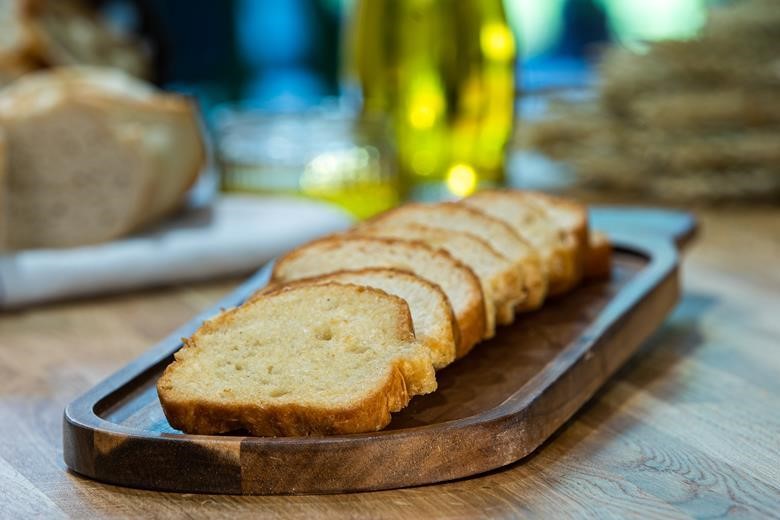 Image sourced from Tesco