Bread in the News
It's a staple in households all around the world, so it's no wonder that bread is making headlines. Take a look at some of the recent bread-related stories we've found.
Bread becomes pro-democracy symbol in Hong Kong protests
Hong Kong's pro-democracy protesters have used a number of colourful and somewhat surrealist memes in their fight for reform. The latest symbol for the protesters is a loaf of bread, which they leave next to protest walls or bring with to demonstrations. The bread, called Life Bread, is a local favourite and its prominence came about after footage of an officer taunting protesters on campus went viral. "Come 6:30am another group of police officers will take over from me. You eat Life Bread, while I will go to Shenzhen to eat hotpot," the officer said. "(We) can drink cold beer. You can only eat Life Bread." The protesters quickly caught onto the symbolism – chanting 'go to Shenzhen for hotpot' at officers – and Life Bread has become the latest symbol of resistance.
UK launches first insect bread
In a first for the UK, Roberts Bakery has launched insect bread, boasting sustainability credentials as well as health benefits such as antioxidant power and gut health-promotion. With more protein than standard bread, the limited-edition Crunchy Cricket Loaves each contain around 336 crickets. The bread is made using cricket flour supplied by a company called Eat Grub, and to make the flour, crickets are dried, ground and mixed with wheat flour and grains. 'As well as having very strong sustainability and environmental credentials, insects are also seriously tasty and shouldn't be overlooked as a great recipe ingredient,' says Alison Ordonez, Head of Innovation at the bakery firm. 'Our Cricket Loaf provides consumers with a good source of protein and an easy way to familiarise themselves with insect-based food."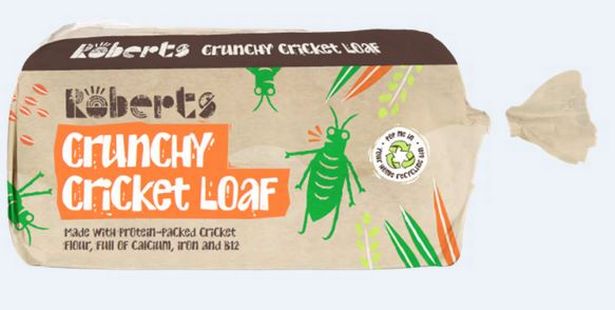 Image source: Roberts
Free Sourdough Bread via Twitter
Spreading a little bit of kindness in what's been a difficult year around the world, a good Samaritan baker in Washington DC has offered a free sourdough bread to one lucky twitter follower every day. While no one knows who he is, as long as you're in the downtown Washington DC area you're eligible for a complimentary loaf which is then delivered to the lucky recipient by bike. "It's Monday, it's cold, and warm bread makes everything better," said the first tweet. Since then, one of the requirements have asked that followers share which non-profit they support and why, with the most liked comment getting the bread for the dough. What a wonderful initiative! Follow the baker on @FermentDC